The last day for orders for delivery before Christmas within the island of Ireland
is before 3pm on Thursday 19th December 2019.
Orders placed from Friday 29th December to 2nd January will be delivered on Friday 3rd January 2020.
Happy Christmas and a Peaceful New Year to all our valued customers!
Welcome to Simone Walsh Online
I can now print EVEN BIGGER!
I can make a print mounted and framed size 33″ x 25″ / Print image size is 25″ x 17″.
COLLECTION ONLY.   €395.00.
My new glossy gift boxes for my framed prints! Just Gorgeous!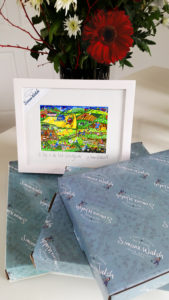 My original paintings are also available on line along with my expanding range of products!