Welcome to Simone Walsh Online
I can now print EVEN BIGGER!
I can make a print mounted and framed size 33″ x 25″ / Print image size is 25″ x 17″.
COLLECTION ONLY.   €395.00.
My new glossy gift boxes for my framed prints! Just Gorgeous!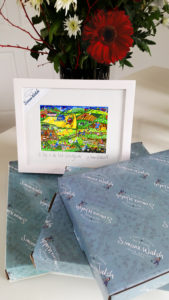 See my latest range of Irish & Nostalgia Prints:
"Growing Up in Ireland" & "A Day in the Irish Countryside"
My "Out on the Town in …" is growing all the time. Check to see if your town or city is there!
Also new: A Day Out in Dun Laoghaire,  A Day Out in North County Dublin; Malahide to Skerries and Out & About in Greystones, Co. Wicklow.
My original paintings are also available on line along with my expanding range of products!